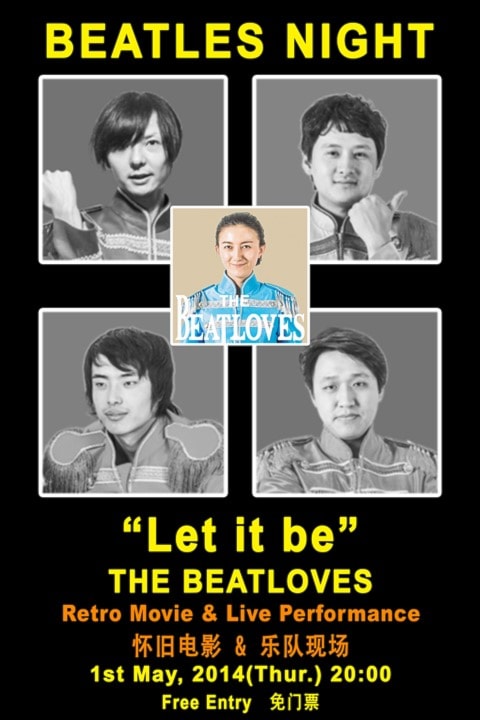 When
---
Event Description

Let It Be – Movie + Performance by The Beatloves
Program:
20:00 - 22:00 Movie "Let It Be"
22:00 - 00:30 Performance by The Beatloves
VA bar offers popular drinks at special rate during 18:00 – 20:30 & 0:00 – 3:00 every day. Happy Hours offer are Stella draft beer at ¥30, Mulled wine at ¥20, Jagermeister at ¥15, Tequila & Jim Bean at ¥10. Let's get high!
About The Beatloves:
5 Beatlesmanias formed a Beatles tribute band,The Beatloves in 2011.
Songs including:
A Hard Day's Night
She Loves You
All My Loving
Help
Back In The USSR
Hey Jude
Let It Be
ect.
BASS: Chao
LEAD GUITAR: Pink
DRUMS: Johnson
KEYBOARD: Lizzy
RHYTHM GUITAR: Sean
Video Link:
http://v.youku.com/v_show/id_XNTc4OTE2ODU2.html
Link:
http://weibo.com/thebeatloves
About the film "Let It Be":
It is a documentaries film about The Beatles produced on 1970. The half film recorded the working scenes of they produced the last album of them "Let It Be" in the studio, the other half is about the last live show – Rooftop concert.
V.A Live!!!
Let It Be – Movie + Performance by The Beatloves
顺其自然[Let It Be] - 电影 + Beatloves乐队
2014年5月1日 星期四 20点
1st May, 2014(Thursday) 20:00
北京市东城区五道营胡同13号
No.13 Wudaoying Hutong, Dongcheng District, Beijing
www.douban.com/host/vabar
All events are publiced at
http://www.thebeijinger.com/user/226824/events/current
http://www.cityweekend.com.cn/beijing/people/bj_va_bar/
http://www.bjstuff.com/profile/vabar
http://u.youku.com/VABar
E-mail:
bj_va_bar@hotmail.com
Tel:010-58443638 13910228025
Free Entry
---
Administratorer
---
Comments
You have to sign in to post in the guestbook.
---