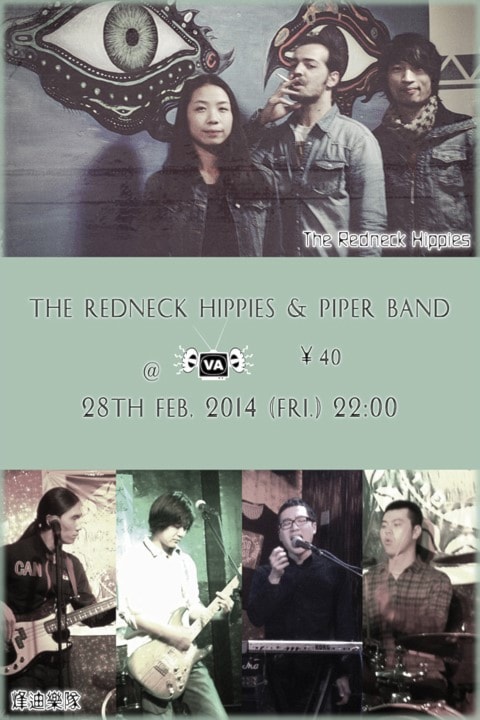 When
---
Event Description
The Redneck Hippies is a power-trio strongly influenced by 60's and 70's R' n' R and Blues such as Jimi Hendrix, Cream, Beatles, Creedence Clearwater Revival, Buddy Guy or ZZ Top. It was formed at the end of 2013 by Sean (Drums), Buttercup (bass player) and Josh Storm (lead guitar and vocals).
Piper Band:
While many are pursuing the complexity of music, Piper has already returned to simplicity with idyllic aesthetics and critical postmodernism.
It is hard to define Piper's music. The only reason of choosing a style is whether it expressed himself better. His music is a fire of freedom, passion and grace. The only thing remained unchanged is the enthusiasm that lasted for more than a decade. Piper sees himself "a music hobbyist" while his talent is well acknowledged.
After years' refining Piper and his band members are getting extremely active. The extensiveness of his works would wrap you in every live performance. The sharpness in their music was not blunted. Instead their love for is even more focused and persistent. They might not get something playing music, but will absolutely loose something if they don't, as what they put themselves.
Guitar/Vocal: Piper
Bass/Percussions/Vocal: Mu Ge
Keyboard/Percussion/Guitar/Vocal: Hai Zheng
Drum/Percussions/Vocal: Zhang Ye
Link:
http://site.douban.com/piperlee/
V.A Live!!!
The Redneck Hippies & Piper Band
2014年2月28日 星期五 22点
28th February, 2014(Friday) 22:00
北京市东城区五道营胡同13号
No.13 Wudaoying Hutong, Dongcheng District, Beijing
www.douban.com/host/vabar
All events are publiced at
http://www.thebeijinger.com/user/226824/events/current
http://www.cityweekend.com.cn/beijing/people/bj_va_bar/
http://www.bjstuff.com/profile/vabar
http://u.youku.com/VABar
E-mail:
bj_va_bar@hotmail.com
Tel:010-58443638 13910228025
¥40
---
Administratorer
---
Comments
You have to sign in to post in the guestbook.
---