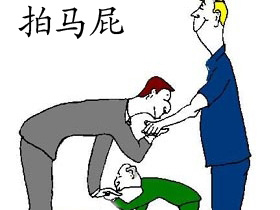 In the Yuan Dynasty, each Mongolian family had a few horses. When two people met each other leading their horses, they always patted the crupper and touched the fat of the other's horse with a casual praise "Good horse!" in order to win the hearts of horse owners. But later on, there were some people who didn't care about the horse was strong or not just giving compliment.
"拍马屁(pāi mǎpì)" means someone praises a lot to please others without regarding the reality. We can call that kind of peole suck-up "马屁精(mǎpì jīng)". It can also be expressed as "拍××的马屁(pāi××de mǎpì)"or"给××拍马屁(gěi××pāi mǎpì)".
eg. 1、他没什么真本事,就会拍领导的马屁。
Tā méi shénme zhēn běnshi ,jiù huì pāi lǐngdǎo de mǎpì.
He doesn't have any real ability, but only to butter boss up.
2、其实,"拍马屁"也是很需要技巧和方法的,否则马屁就会拍到马腿上。
Qíshí, "pāimǎpì "yě shì hěn xūyào jìqiǎo hé fāngfǎ de, fǒuzé mǎpì jìu huì pāi dào mǎtuǐ shàng.
In fact, brown-nosing also requires great skill and method. Otherwise, you will flatter others without achieving the desired purpose.