Posted by fiona zhang on 10. Aug 2016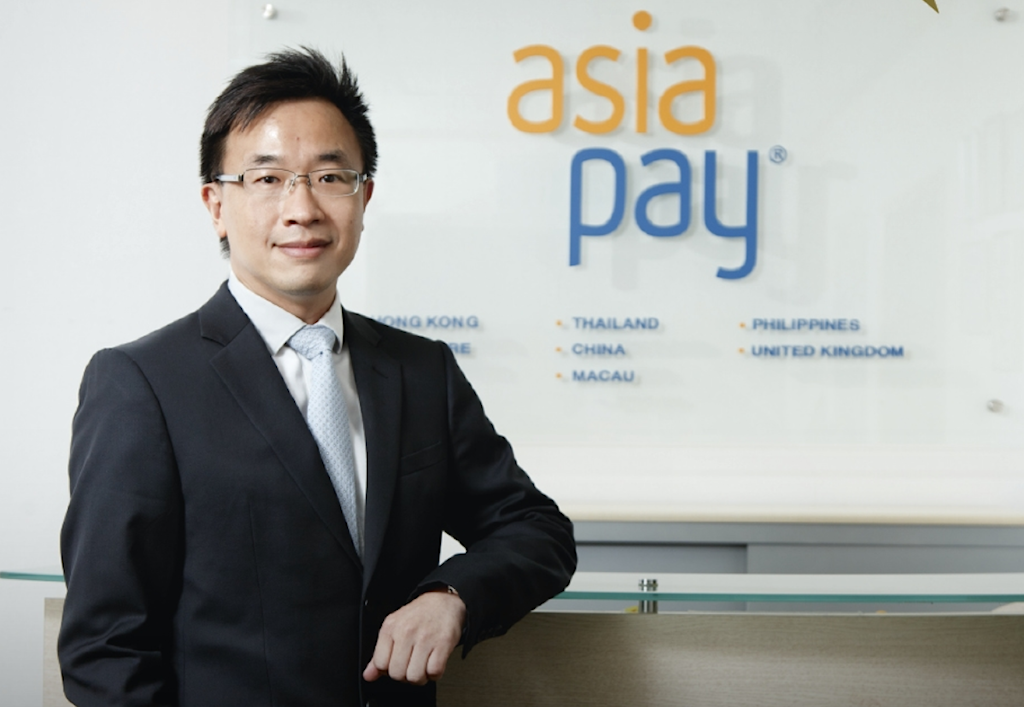 By Joe Bush | July 20, 2016

When you drive on rough roads you don't have to slow down, but you do steer more carefully, guiding your car to smoother surfaces. Chinese payment facilitator AsiaPay is welcoming China's recent regulation tightening as a move to help clean up the country's payments industry's fraud-infested reputation. AsiaPay is reading the new road sign as it zooms by, according to our interview with its CEO Joseph Chan, a key player in the massive payments market that is China.
How massive? In their 2015 report on global payments, Capgemini and the Royal Bank of Scotland said China's non-cash transaction volume growth in 2013 led the world's countries at 37 percent, with the region they call Emerging Asia (India, China, Hong Kong and other Asian countries) leading global regions with more than 21 percent growth. Alipay and WeChat are the dominant third party service providers in the online and mobile payments. ApplePay and SamsungPay have entered the market as well, though they use NFC rather than the QR code conduit favored by Alipay and WeChat.
"China, Japan, South Korea and India are just some of the countries in Asia that we are expecting to grow in the coming years," Chan said in an interview with paymentfacilitator.com. "The rapid growth in the number of online shoppers combined with the growing internet and smartphone penetration rates in these countries provide lots of opportunities and challenges for payment players like us to solve and conquer."
"China is on the right track to improve its online payment credibility. By revising its existing online payment application policy, it will gain investors' trust and confidence. China is still a huge profitable market to obtain."
In mid-June China's central bank announced tightened regulations for online payment service providers, that took effect July 1, and Chan says the increased oversight and higher hurdles for onboarding is good for business. He said the mandate that third-party online payment service providers must ensure that all user accounts bear the real name of the account holder was in part a response to global concerns about China-related counterfeit activities.
Contingent on security requirements, user accounts are now categorized into three types, and capped with maximum annual payments.
News reports on the updated mandates, which took effect July 1, claimed the stricter rules were created to prevent sizable deposits of money into third-party payment accounts that are not protected from bank deposit insurance.
Chan said he thinks the more stringent rule is to tighten the application process to improve China's online payment credibility and to monitor and check any suspicious transaction periodically. For new merchants, Chan said AsiaPay checks business registration; certificate of incorporation; company rolling reserve; number of years in establishment; office address verification; director's ID or passport copy; site visit; WHOIS domain name checking; recent month bank statement copy.
Founded in 2000 and headquartered in Hong Kong, AsiaPay works with merchants and banks in 12 countries, including China, India, Indonesia, Malaysia, Singapore, Philippines, Taiwan, Thailand, Vietnam and Australia. Among the sectors it serves are retail, consumer products, financial service, technology, telecom, media, publishing, and government.
Chan said AsiaPay differentiates itself with a platform to deliver strong security, customizability and scalability; he said AsiaPay is one of the few electronic payment providers in Asia which has passed Level 1 PCI DSS certification. Chan claims his company's servers boast 99% uptime.
"In addition to our core payment services, we also provide other solutions like tokenization, online reservation system and loyalty programs that enable merchants to do more than just accepting payments online," said Chan.
"Our platform provides them variability and capacity to adapt and support larger transaction volumes as they grow. We also support one-click-payments, mobile optimized payment pages and provide fraud prevention tools that allow merchants to gain valuable fraud data to screen out any possible fraudulent transactions."
Chan said AsiaPay works in a space that takes into account companies of all sizes that want to focus on their business model instead of the myriad rules and regulations of the payments industry.
"With the intense competition in the industry, obtaining a merchant account is not just a simple walk in the park," he said. "The strict requirements set by banks, like minimum sales volumes and years in operation have made many small merchants forego credit cards and accept only cash or checks. As a payment facilitator, AsiaPay can empower startups and merchants with low sales volumes accepting credit card payments online with much greater ease at better cost-efficient rates."
It seems that AsiaPay has its sights on the stars but its wheels on the ground.
---
Comments
Logg inn for å skrive en kommentar.